2014 Hyundai Sonata vs 2014 Ford Fusion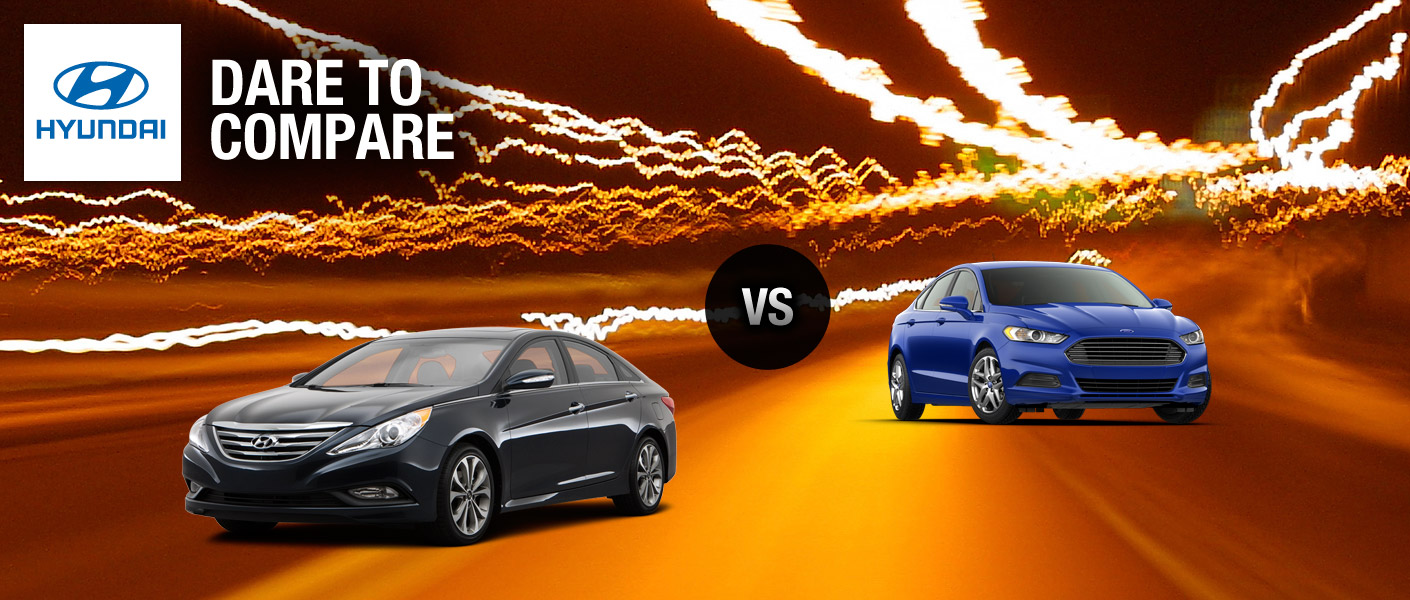 | | | |
| --- | --- | --- |
| 2014 Hyundai Sonata | | 2014 Ford Fusion |
| 24 MPG | Combined Fuel Economy | 22 MPG |
| 190 | Horsepower | 175 |
| 104 ft3 | Passenger Volume | 103 ft3 |
| $21,450 | MSRP | $21,970 |
2014 Hyundai Sonata vs 2014 Ford Fusion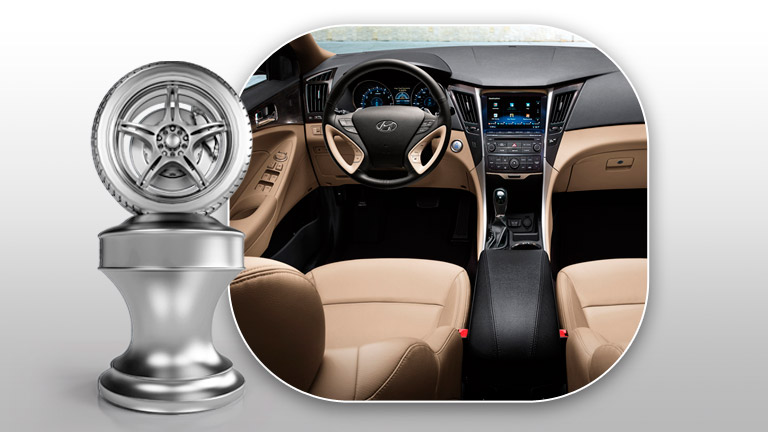 Out of all the vehicles in the mid-size car segment, none are quite like the Hyundai Sonata or the Ford Fusion. The vehicles share similar design cues as well as capabilities that are nearly identical. However, a closer look at the 2014 Hyundai Sonata vs 2014 Ford Fusion shows that the Sonata benefits from a slight advantage over the Fusion.

Buyers in the market for a mid-size car typically have superior fuel economy at the top of their wish lists, which is one of the major reasons that the Sonata is superior to the Fusion. The 2014 Hyundai Sonata pulls in 24 mpg in the city while the 2014 Ford Fusion is only capable of achieving 22 mpg for the same cycle. Highway fuel economy ratings aren't as far off, but the Sonata's 35 mpg rating is still undoubtedly impressive when compared to the Fusion's 34 mpg rating. Despite the added efficiency, the engine found under the hood of the Sonata offers more power, as well. The four-cylinder produces an output of 190 horsepower which is significantly higher than the 175 horsepower that comes from the similarly-sized four-cylinder in the 2014 Ford Fusion. Torque is a little closer in each vehicle. The Sonata provides a few added pound-feet of torque, but the engines of both vehicles are rated right around 175 lb-ft.
Interior Space of the 2014 Hyundai Sonata
As we said, the Sonata and the Fusion are extremely similar when it comes to design and size, but when it comes to overall interior space, the Sonata is slightly larger, allowing for an increased level of comfort. The larger passenger volume of the Sonata allows it to provide increased head and legroom for both front- and back-seat passengers.

More efficiency, power and space would seem to come with more money, but that's not the case with the Hyundai Sonata. Even though the Sonata is clearly more capable than the Fusion, it boasts an MSRP that's lower than the Fusion. It's only a difference of roughly $400, but when you consider the fact that $400 is roughly two monthly payments, the difference is actually quite significant.

The winner of the 2014 Hyundai Sonata vs 2014 Ford Fusion is clearly the efficient and capable Sonata. If you're interested in learning more about what the 2014 Hyundai Sonata has to offer, be sure to get in touch with us here at Lehigh Valley Hyundai. We're only a short distance from Pennsylvania communities such as Allentown, Bethlehem and Emmaus, PA, and if you really want to discover the difference that the 2014 Hyundai Sonata can provide, we suggest that you schedule a test drive here at our Lehigh Valley dealership. It's the best way to get the first-hand experience of all that the sedan is capable of.